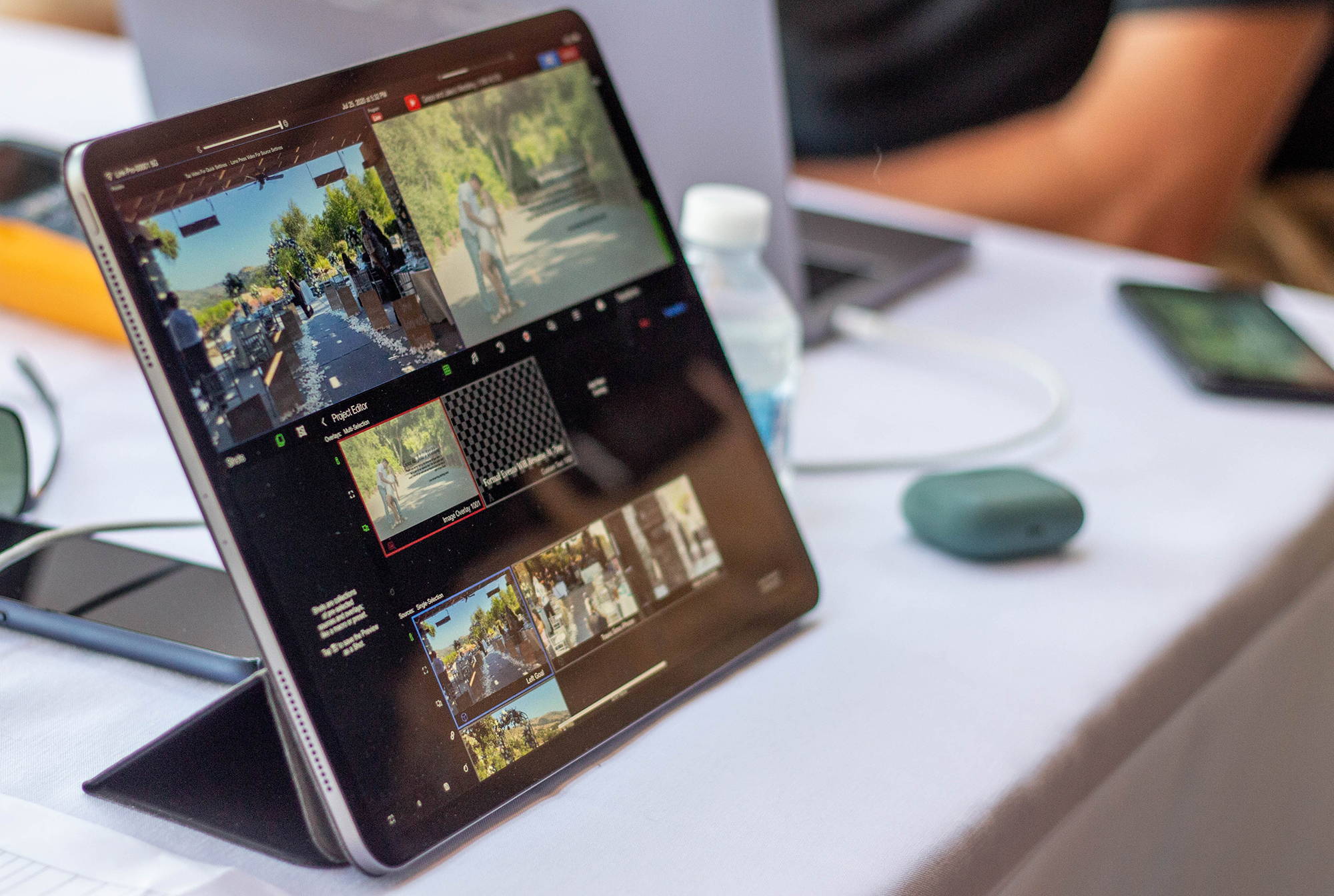 8 Simple Steps to get Your Stream Started
Limited budgets, scheduling conflicts, capacity limitations, social distancing restrictions: all valid reasons for why you might be looking into virtual weddings, and how to livestream your wedding for your loved ones to be present. With the Covid-19 pandemic, the Zoom wedding has become a common alternative, but you may be surprised to know that there are better ways to share your virtual wedding ceremony to optimize the guests' experience. If you're ready to learn the ins and outs of wedding streaming, read on!
Wedding photos and videos are great for those who can't make it to see what happened after the fact. But that's just the issue - it's after the fact. And while meeting apps like Zoom, Facetime, Google Hangouts, and Google Meet offer guest interactivity, the overall guest feedback is that it's a very distracting way to experience the wedding.
The next best thing? Send your guests a live streaming wedding invitation!
Creating a polished looking live stream wedding without the help of a professional video team is easier and more affordable than you may think. Here are 8 steps to wedding live streaming with Airmix, our iOS streaming app.
Find a tech-savvy volunteer
Set aside an iPad
Download Airmix
Choose your platform
Check the internet connection
Test, test, test!
Set up a good angle
Stream
Bonus Tips
Step 1: Find a Tech-Savvy Volunteer to Manage the Day-of Streaming
Sure, you (the bride or groom) may be able to handle it, but on this day you should be focused on each other - not the live stream. Find an in-person attendee in your wedding that you trust to take care of your live stream.
Before your big day, walk your volunteer through what it takes to get your live stream going and have a plan in place to make sure it keeps running smoothly.
Last thing you want to do is hand over the iPad to Uncle Pete, who has trouble setting up a Facetime call, just 10 minutes before the ceremony.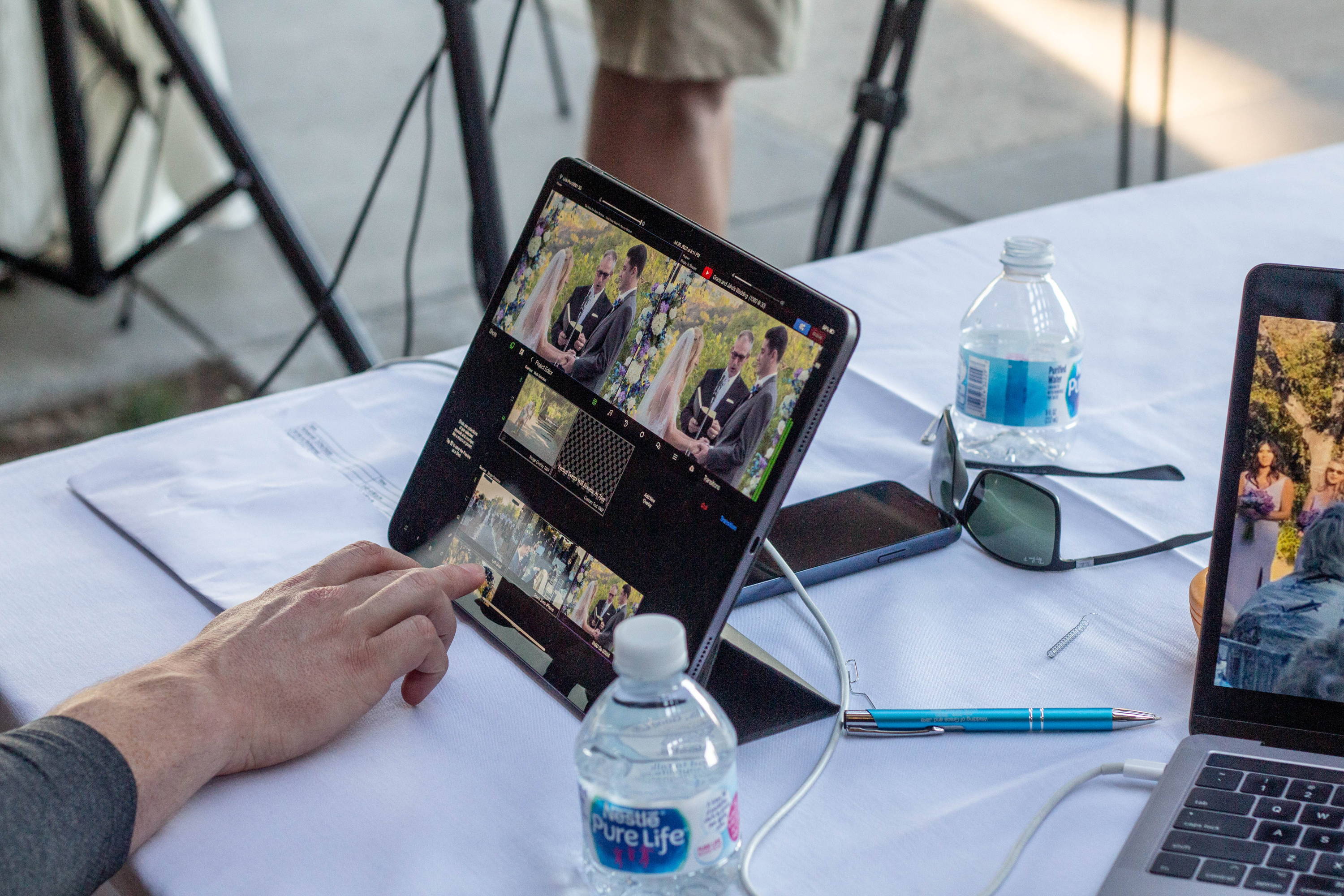 Step 2: Set Aside an iPad to Stream From
To ensure a quality live stream wedding service, we recommend using a fairly recent generation of iPad. Also, avoid holding it or propping it on something precarious. We recommend getting a basic tripod with iPad mount [such as this one].
Step 3: Download Airmix
Yes, you CAN stream your wedding live directly onto Facebook or YouTube. But this isn't just some ordinary cat video. It's your wedding day! Give your stream the professional-level production touches it rightfully deserves.

To do so, we recommend our Airmix iOS app. With Airmix, you can:
Insert custom graphics and title cards
Broadcast your wedding slideshow
Stream to YouTube, Facebook, and more
Broadcast multiple camera angles
Adjust image quality and color contrast
There are plenty of beginner tutorials to learn how to connect to your platform of choice and to add the graphics that you want. And that's just scratching the surface of what you can do with Airmix, since professionals also stream with this app.
Step 4: Choose A Platform (like Facebook or Youtube)
If all of your virtual guests are your Facebook friends, then it's easy to set up a private group for streaming. Just create a group for your wedding day, invite all your virtual guests to join, then start a live stream to that group for a Facebook live wedding.
If there are a decent number of non-Facebook users in your virtual guest list, then you can consider an unlisted Youtube event. You'll need a Youtube account and a channel that's existed for more than 24 hours to live stream.
You can even embed the Youtube event into your wedding website for easy sharing with all your guests. The issue with Youtube is that they may shut the live stream off if it detects copyrighted music in the stream.
That's where using a dedicated wedding streaming service platform like Eventlive.Pro will give you the security that your stream will stay on AND you can embed it right into your wedding website.
Whichever path you choose, make sure to share the link to your virtual wedding ceremony to your guests ahead of time!
Step 5: Check Your Venue's Internet Connection
Before you can start wedding streaming, you need internet connection. That's why we recommend checking the venue's wiFi and/or strength of cellular service while you're doing a walkthrough of your wedding venue.
If there's no venue WiFi but there is a strong cellular signal, you can look into hotspot options. If your iPad does not have cellular data, see if your cell service supports hotspot internet sharing that your iPad can connect to.
Using apps like Speedtest, you can see if the internet connection choices are fast enough to do a live stream. Ideally, you should see 1mbps (megabits per second) to get okay quality for your viewers. The more the merrier. If you see 5mbps or more, then you're in good shape!
Step 6: Test, Test, Test!
Once you have your iPad, Airmix and internet connection all set up: it's time to test! Stream to temporary, private test events to smooth out anything that your virtual wedding ceremony may be missing. The most ideal way to test is during a walkthrough of your actual wedding venue.
Also, if you have speeches that are going to be included in the live stream, you can use this time to test and prepare graphics or titles to overlay on the video so your viewers can know who's speaking and their relation to you. Virtual wedding ideas are practically endless!
Step 7: Set up a Good Angle on the Wedding Day
A technically perfect live stream wedding doesn't mean much if your guests can't see what's going on. The safest bet is to have your volunteer set up the iPad to point down the aisle from the back where it doesn't interfere with the photo or video team.
You can also set it off to the side in the front aisle (make sure your volunteer has a seat here beforehand), lowering the tripod to a low enough level to avoid blocking the view of sitting guests. This is a nice intimate location for virtual guests to get front row seats. Plus they can hear your vows clearly if you don't have a mic and speaker set up at your wedding location.
If one angle just doesn't cut it, you can add another iPhone as a second camera angle! Check out the bonus tips below for more info.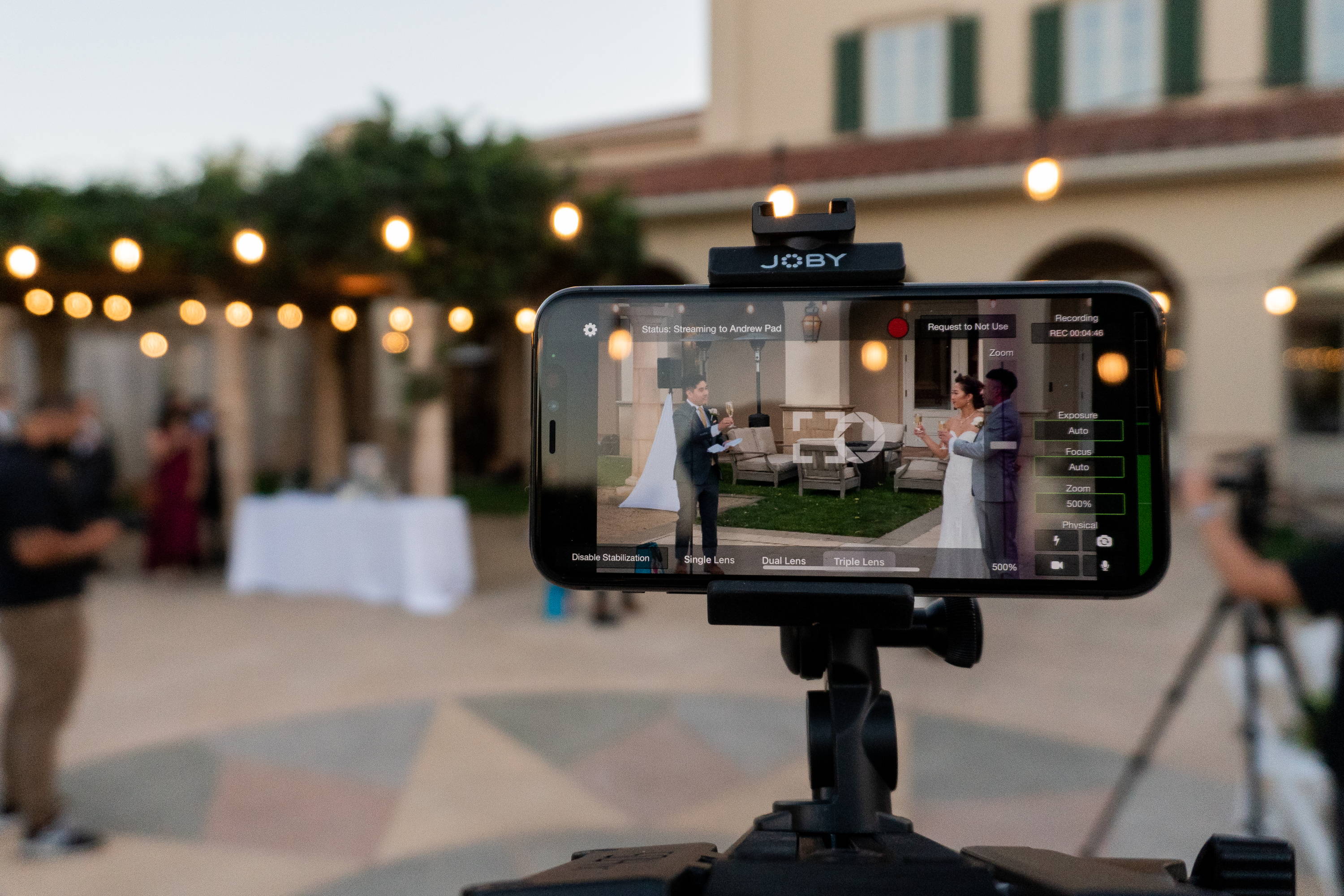 Step 8: Stream!
If you've followed all the steps above, your volunteer should be all set! Now, you can enjoy your big day and experience it with your loved ones. Who says you can't have your (wedding) cake and eat it, too?
Tip 1: Adding More Than One Angle
With the help of Airmix, it's easy to wirelessly add an iPhone as another angle for your volunteer to switch back and forth from. You can even get fancy during events like the first dance and do a cinematic moving shot with an affordable gimbal like this.
Follow this tutorial to learn how to add angles. As with the iPad, we recommend getting the iPhone set up with a tripod and phone adapter for stationary angles.
Please note: to add an iPhone or another iPad as an angle, they have to be on the same WiFi network. If the venue WiFi connection is weak or non-existent, then you'll have to create your own WiFi network with a router.
You can use a low-cost WiFi router to connect all your devices together. If the devices have to be far apart, then you may need to use a router with a much stronger signal, like the Teradek Link.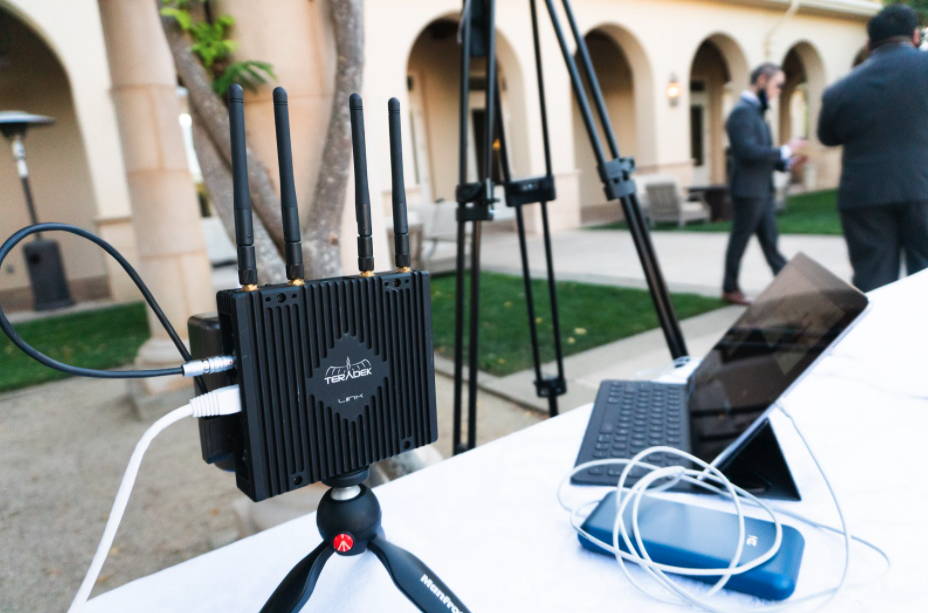 Tip 2: Getting Pro-Level Audio
Want to take your live stream wedding to the next level? The secret is audio. The easiest way to get better sound into your stream is to work with the DJ.
You'll need to get an output from the board (could be XLR, RCA or ¼ inch outputs), and then connect it via a 3.5mm TRRS cable to plug into the iPad. Check out adapters like this XLR to TRRS or this ¼ inch to TRRS cable to get started with jacking into the DJ board.
From there, you can adjust the audio levels and sweeten the audio with filters right within Airmix.
If you want to get really geeky, you can add your own wireless mics and mix all the sources together with a simple mixer like the one pictured below.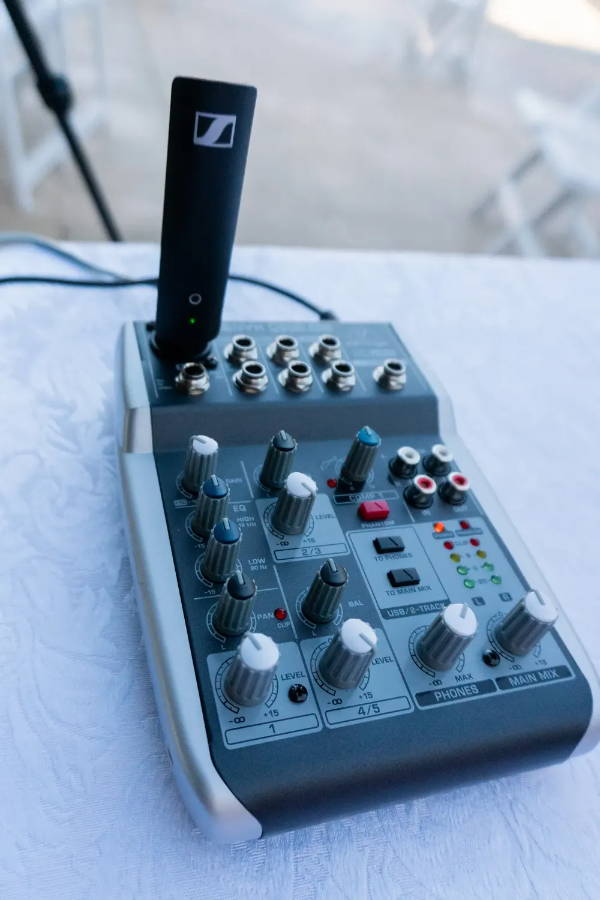 Tip 3: Do Not Disturb Mode
Tell your volunteer to turn on Do Not Disturb Mode for all mobile devices you're streaming with! Let's avoid having a call interrupt the wedding streaming during the vows.
Tip 4: Get Back-up Power
Bring power banks for your devices. It would be a big downer if a stream ended early because your iPad's battery was low.
Tip 5: Don't stress!
Just like with a wedding, things may not go exactly as planned – and that's okay. The good news is there are a number of things that we outlined that you can control: preparing graphics and angles, internet connection, audio settings, etc. You can go into the wedding with confidence knowing you've done all the prep work with your volunteer.
But if you want a more reliable approach, you can hire a seasoned wedding streaming professional with encoders like Teradek Cube or VidiU Go to get the job done with more streaming firepower.
Once you download Airmix, check out these tutorials!

Article Links: