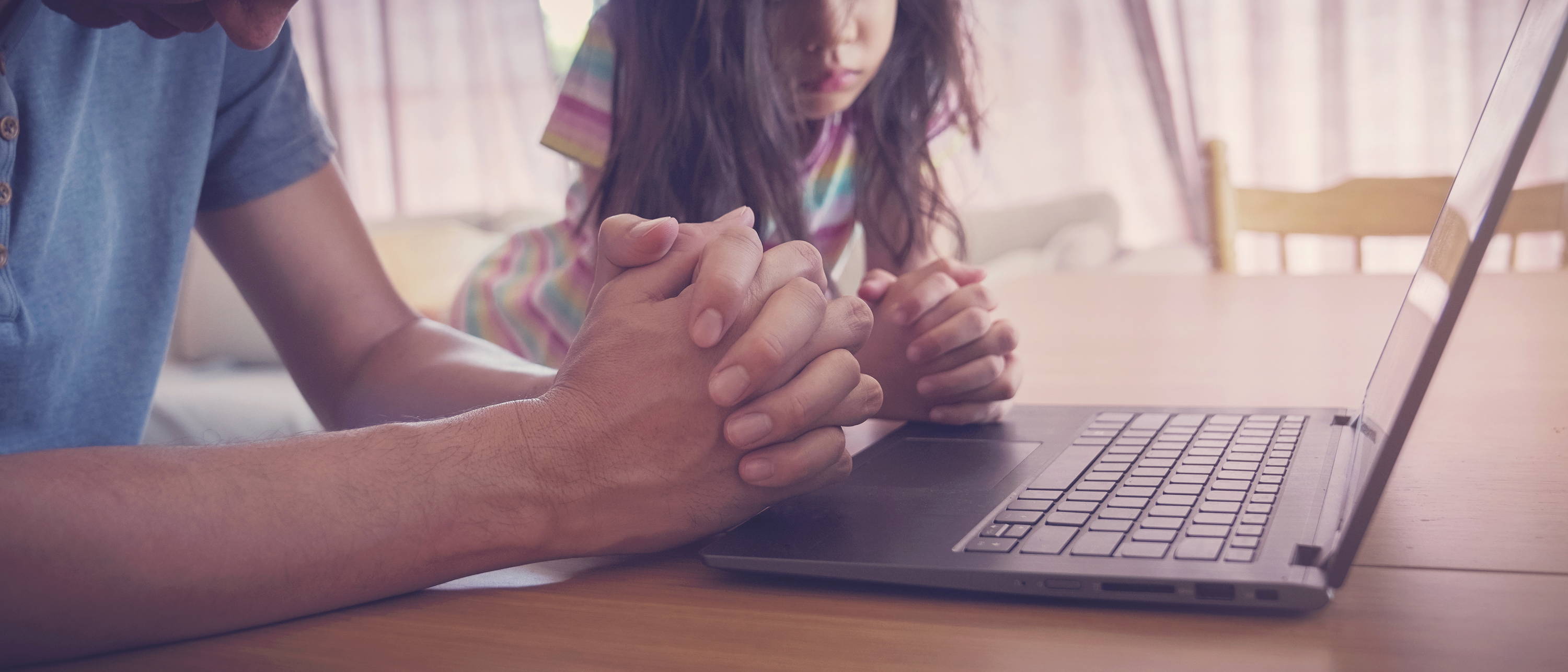 It's true, live streaming church services isn't new. Many large churches have been offering live video to its members for years now. But the COVID-19 pandemic has made it more important than ever for congregations of all sizes to stream church live and allow their members to attend services safely.
If you want to learn how to live stream church services, which church online platform to choose, and how to improve your live streaming church quality and frequency, this blog will help guide you in finding a solution that's right for you.
Streaming Your Religious Service with What You've Got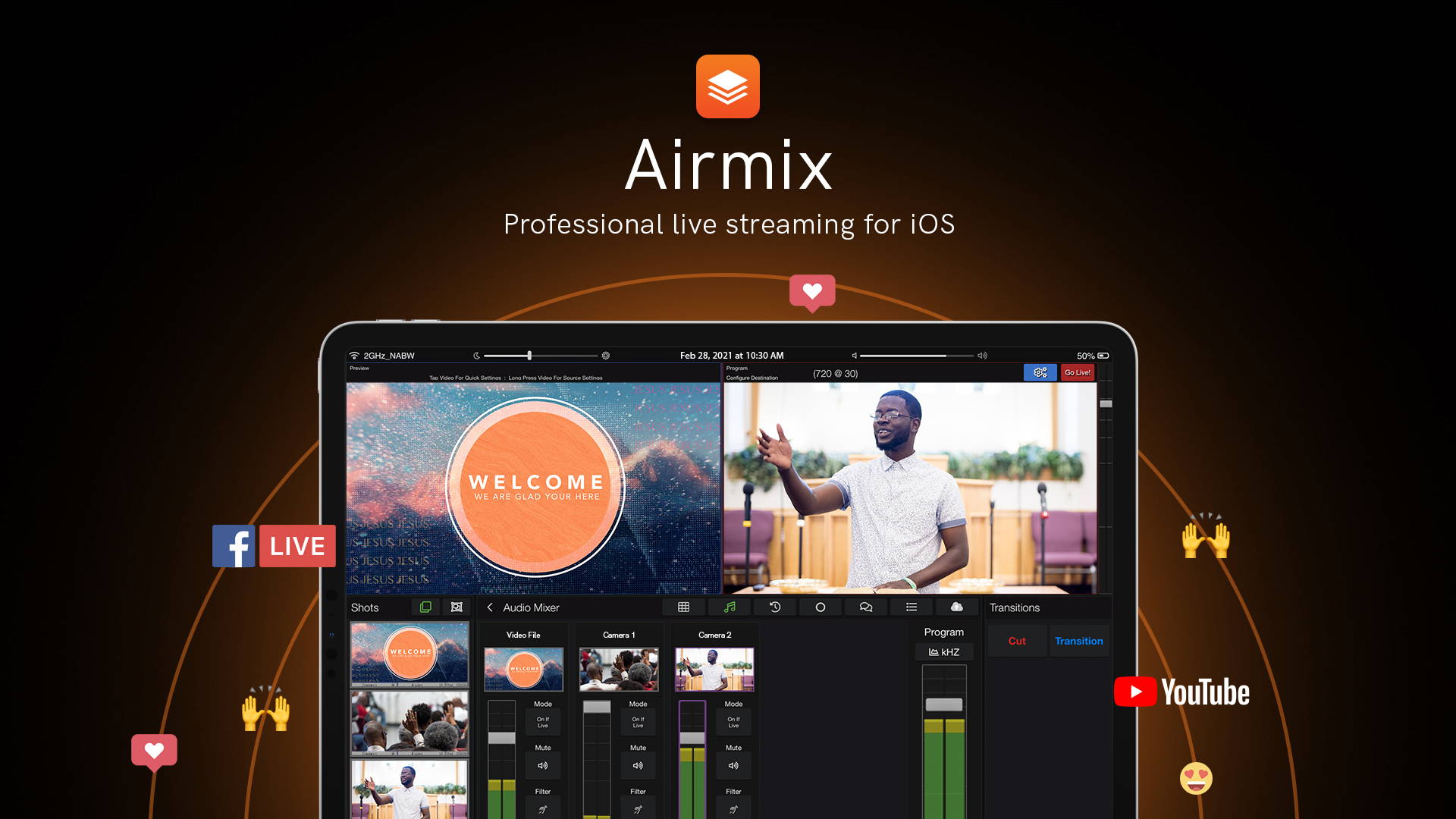 If you're a church or house of worship with a small budget and a couple of tech savvy volunteers, you can create high quality live streams. Got an iPad or other iOS device? You've got a streaming rig.
If live streaming service is new for you, try getting started with an iPad and the Airmix app. Airmix is a powerful live streaming app that can act as a production studio, switcher, and camera.
Easily enhance your live stream with titles, graphics and media playback right from the app. You can even add additional camera angles to make your church live stream more immersive and engaging for your congregation.
If you don't have an iPad, you can try our free Airmix Solo app for the iPhone. It's much more limited than the full iPad version, but has the ability to add graphics.
Step Up Your iPad Setup with Additional Camera Angles
The best way to beef up your production quality is to add additional camera angles. While you can simply use the iPad's built-in camera, cutting between two cameras is a better experience for audiences. Airmix allows you to do this with mobile phones, cameras, and camcorders.
By installing the Airmix Remote app on any compatible iOS or Android device, you can turn cellphones into extra camera angles. Just make sure all the devices are on the same Wi-Fi network.
Scalable Setups for More Professional Streams

The joy, hope and love your service brings needs to reach your community. In a world of social distancing, the best way to make this happen is by focusing on delivering a high-quality live stream: a stream that's clear to see, pleasant to hear, and easy to focus on.
Adding a nicer camera and upgrading your audio can make a huge difference.
Upgrade Your Picture Quality

If your church is interested in improving the picture quality by using a camera or camcorder instead, consider using a dedicated streaming device such as our slim, lightweight, and portable Vidiu X or Vidiu Go encoders. Encoders allow you to stream directly from your camera to the platform of your choice. These devices can be mounted on top of your camera and be set up and controlled from a mobile device for a portable and powerful setup.
Using a dedicated device is a more reliable way to stream compared to using computer-based programs. Since computers aren't built solely for streaming, they can have a higher potential to crash and interrupt your live stream, especially if the one you're using is not powerful enough.
Additionally, once set up and connected to audio and video, you can have a volunteer start your live stream with the push of a button.
Want to combine the robust features of Airmix with this camera setup? Teradek's Vidiu line of encoders can send a camera's video and audio signal straight to Airmix! This will allow you to use both the iPad and your camera/camcorder as an additional angle.

Hardware Switching
If you don't have an iPad and don't want to spend a large portion of your budget on one, or you prefer a more hardware-based switching solution over a software-based one, consider using a switcher such as the Blackmagic ATEM Mini ($295) to switch in between your HDMI video sources. You can output your video from the ATEM Mini to a Vidiu X or Vidiu Go encoder to stream out to your audience.
Note that you won't get the same ability to use iOS devices as additional angles as you get with the Airmix app, and playing back media like video files will require an HDMI media playback device.
Moving Services Outside
With the current limitations, church services held outside under tents have become more common. Unfortunately being outside might mean that you will not have easy access to your church's ethernet or Wi-Fi internet connection. This is where the portable Vidiu X or Vidiu Go can be a great asset. Teradek's Vidiu devices can use cellular connections.
You can share your cell phone's internet connection with your Vidiu or plug in a compatible USB cellular modem available from many carriers. With a strong enough cellular connection, you can practically stream from anywhere!
Internet Connection - The Key to Streaming

All the live streaming technology in the world is not going to give you a successful live stream if you don't have a reliable internet connection. A strong internet connection is the backbone of your church live stream, so you will want to make internet bandwidth and accessibility a priority. If you have to use Wi-Fi, consider the location of your router. It's best to have your router as close as possible to your streaming device.
Internet Service Bandwidth
Internet bandwidth and speed are referred to interchangeably. In the world of live streaming, your internet bandwidth determines how much video information you can send out onto the internet and into the computers and mobile devices of your service attendees. Internet Service Providers (ISPs), like AT&T, Comcast, Cox, etc will offer service tiers measured by upload and download speeds.
With live streaming, it's the upload speeds that matter the most, and we recommend that you get internet service that's at least double your target bitrate.

Aside from seeing the service, the most important element to a great church live stream is the audio. Your church may have an audio system to feed sermons, mass, speeches, readings, or service into speakers through a compatible cable. If your church doesn't currently have a sound board, you have a few options to make sure your virtual audience can hear the audio more clearly.
Get an external microphone
Whether you're streaming from a mobile device or a dedicated camera, chances are that the built-in microphone will not deliver the clearest audio. We recommend getting an external on-camera microphone to improve the quality of your audio such as a small Rode Shotgun mic. This can make a huge difference in your church stream.
Get closer to the audio source
Setting the camera that's the main source of audio way in the back of the church is the recipe for inaudible audio. We highly recommend placing the camera or mic that's picking up audio for your audience as close to the action as possible. This can mean just placing it right below the podium.
If your church does have an audio system but no accessible output jack, consider placing your mic closer to a church speaker.
Building an Affordable Audio Setup
If none of the above works for you or you have the budget for it, consider creating a live streaming audio system from scratch. If it's just for the live stream, it doesn't have to be that expensive!
First you have to get mics for the podium, altar or wherever there will be a speaker and choose whether you want to invest in a wireless mic setup or run cable from the audio source. For a more affordable wireless option, consider the Rode Wireless Go system for short range transmission. For additional range, you can get a kit such as this Shure kit for a good price.
If you have multiple mics, you'll likely need a sound board to control all the audio levels and then feed it into either Airmix or your Vidiu encoder. For a low cost solution for up to five audio sources, consider this mixer that we've used before for weddings.
It may seem intimidating at first, but it can just cost a couple hundred dollars to achieve high quality audio for your live stream!
Getting your video and audio hardware and internet connection all set up is vital, but you need a place to output all the hard work you put into your live stream program to be. This is where streaming platforms come in. The most popular platforms include YouTube Live and Facebook Live. There are also specialized platforms so the question is: which one is right for your congregation?
YouTube and Facebook Live are free and easy to get setup, but they do have some sharing and technical limitations to consider, especially when it comes to copyrighted music. For example, is your entire congregation on Facebook? Are the privacy settings enough on Youtube?
There are also specialized platforms for church services, like Churchstreaming.tv. Their features and support are tailored specifically for a Church's needs. Services like these are paid, so take that into account for your budget.
Ready to get started?
Learning how to live stream church can be a lot in the beginning. Don't worry about getting it perfect right away. You'll grow as you go, and Teradek has plenty of resources to help you along the way (like this live streaming basics article and this Vidiu Go setup tutorial).
Whichever live streaming setup you choose, however much experience you have, just remember that you're playing a large part in delivering your Church's message to its community and keeping your members connected.