As countries around the world launch their strategies for reopening their economies, production companies, networks, and unions are all working to define and implement processes that will shape film and television productions for months, and perhaps years. The intent of this document is to expand on the industry's new production guidelines, specifically for on set filming or production, and remote video village setup and management to demonstrate how our products and technology can play a crucial role in creating and maintaining a safe production environment. Our goal is to provide useful information and recommendations to the teams and organizations working to establish these new protocols.

Teradek's mission has always been to develop products and solutions that improve productivity and efficiency for on set production and streaming content. Simply put, we want to make the process of creating content easier. Founded 11 years ago, Teradek has sold over 100,000 real-time video transmission systems (Bolts) and codec products (Cube, Bond, VidiU, T-Rax). Oscar winners, OTT providers, film studios, rental companies, documentarians, corporations, government agencies, and thousands of crew members around the world use Teradek products. But most use only one or two of our products at a time.
To build and maintain a safe production environment, the combination and integration of Teradek products provide the foundation needed to maintain distance, offer collaboration tools, ensure the safety of both talent and crew, and deliver new content with minimal disruption or added cost. The products we will highlight will work just as they always have. But when implemented together, they will provide you with the capabilities for a safe and productive shoot across a new production paradigm: Off set, Near set, and even On set.

VIRTUAL VIDEO VILLAGE
Productions have relied on video villages for many, many years but in the age of Coronavirus, having crew congregate around the video village is a nonstarter. As both US and British Film Commission guidelines suggest, a video village should support the viewing of video from a separate location while facilitating physical distancing. Hence the need to support remote users working off set in virtual video villages. In order to provide this capability, additional remote viewing technology and monitoring applications will be required. There are critical components that make up this workflow, that we will cover. Supporting these new tools is internet access.
INTERNET CONNECTIVITY
Internet connectivity is the basic building block for the establishment of your virtual video village, whether your video source is located in a studio, on location, or an editing bay. In the best case scenario, your location is equipped with a robust single ethernet connection that can carry the enterprise level of performance. However, this is likely not the case. Determine the availability of your internet at the location you will be transmitting from.
Production Internet
General Internet
No Internet

Dedicated IT personnel are
available on set and can
guarantee at least 10 Mbps of consistent uplink via WiFi or Ethernet.

Internet service is available at the location, but not sure who manages it or if it is shared amongst all personnel on set.

No WiFi or Ethernet connectivity at the location.
TRANSMITTING
Now that you have determined your internet connectivity, we can transmit the signal out from the location. To do this, you will need a dedicated hardware encoder to produce high quality video and audio signals over the internet. Based on your internet connectivity identified above, these are the suggested encoders.
Product
Price
Features
Internet Connection

All in one encoder and dedicated internet
Data Bonding
4x cell modem connectivity
Available in HEVC compression

Starting at $1,990 & $699

Single cell modem connectivity

Data Bonding

Available in HEVC compression

Production or general internet

Low Cost
No bonding capabilities
Must have an available internet connection
BOND BACKPACK/CUBE
You can use a Teradek Bond Backpack or Cube to transmit the camera signal whether it's directly from the camera output or from a Bolt zero-delay system at video village. The Bond Backpack will create a bonded network link with up to 4 cellular modems to ensure the most robust internet-based speed, while the Cube will use wired connectivity and up to 1 cellular modem if it is available. Both products have been used for years by broadcasters who need to send a camera signal from one point to another.
WHAT IS BONDING?
Data Bonding is the process of utilizing multiple internet connections simultaneously to create one robust connection. In order to do this, video packets are split amongst the different outbound data channels and later repackaged in the cloud by Teradek Core for distribution. Teradek Core is a cloud based application that is required to support your remote users in their virtual video villages.
The Bond Backpack and Cube both support data bonding. The Bond Backpack is a self-sufficient package, containing a Bond encoder and four cellular modems in a backpack, all powered by a Gold or V-Mount battery. The cube can accept one modem and is recommended for bonding, even for locations with internet connectivity. Both Bond and Cube can also accept an ethernet and/or WiFi connection (including routers and hotspots) to contribute to bonding. When bonding, we recommend using multiple carriers for cellular connectivity to maintain consistent uplink. Teradek has partnered with Telna, a third-party cellular provider, that allows you to manage all of your cellular data and carriers in one dashboard. Every Teradek modem includes a Telna SIM, so right out the box, you can activate and load up your account with data.
Note: Serv Pro does not have bonding capabilities and is only recommended if an internet connection is available. It is possible to pair Serv pro with Link, one of Teradek's wireless router solutions, Link.
CORE
In order for the bonding to be processed, the video packets must be repackaged using Core, Teradek's cloud-based management system. From your video village, a Cube or Bond will send a fully encrypted signal to Core. Within Core, you can route the signal to off set users who might be working from home or in remote offices. Core requires either dedicated hardware or unique passwords to ensure that your content stays protected, allowing authorized users to access the content on either a real-time or on-demand basis. Content can be viewed on iPads, computer browsers, Apple TV's, or dedicated monitors. Cubes can even be used by your post-production team so content can be streamed to Core from your editing systems, allowing remote users to fully participate in the editorial process.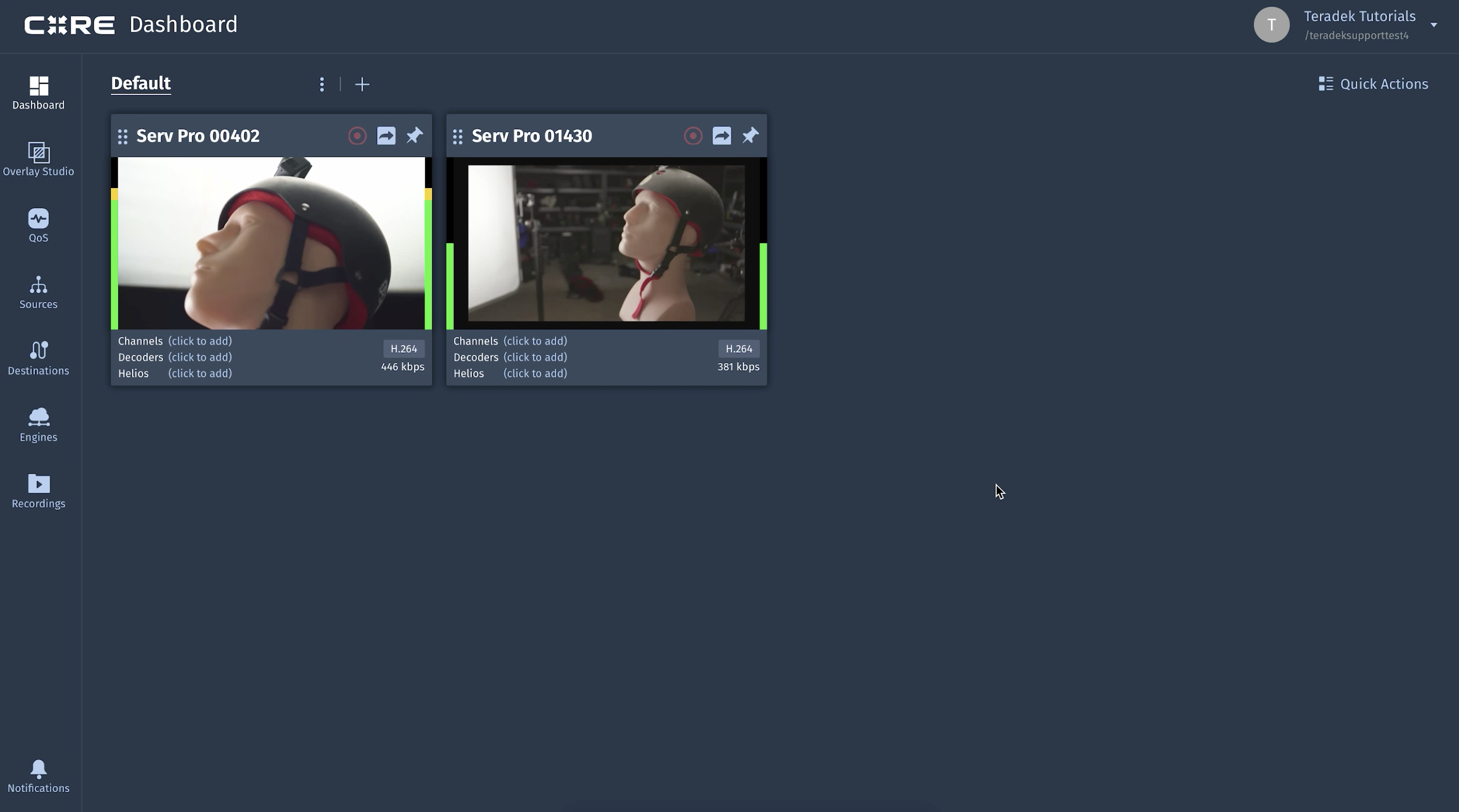 In addition to processing your bonded video stream, Core provides a simple drag and drop user interface that allows you to distribute your video to its ultimate destination.
RECEIVING
Teradek offers a variety of options for receiving the video feed while maintaining a safe production environment. For example, the Core TV iOS app allows you to share your feed with clients and crew members by sending a link to their email. VUER allows up to ten different users to monitor and analyze up to four Teradek encoder feeds, each with its own independent set of tools like apply LUTs, waveform, and multi-cam. To deliver your feed to a production monitor or television, you can preconfigure a hardware decoder, so that all you need to do is plug in the internet. In addition, the VUER app is available for Mac OS for laptop or desktop viewing.
Product
Price
Features

iOS App
Simple viewing interface
Encrypted

iOS or Android supported
MacOS supported for desktop and laptop
Advanced video monitoring tools (waveform, etc.)
Multi-view capable
Encrypted

Convenient computer and laptop use

Best option for production monitors
SDI or HDMI output
Encrypted

Apple TV App
Simple viewing interface
Encrypted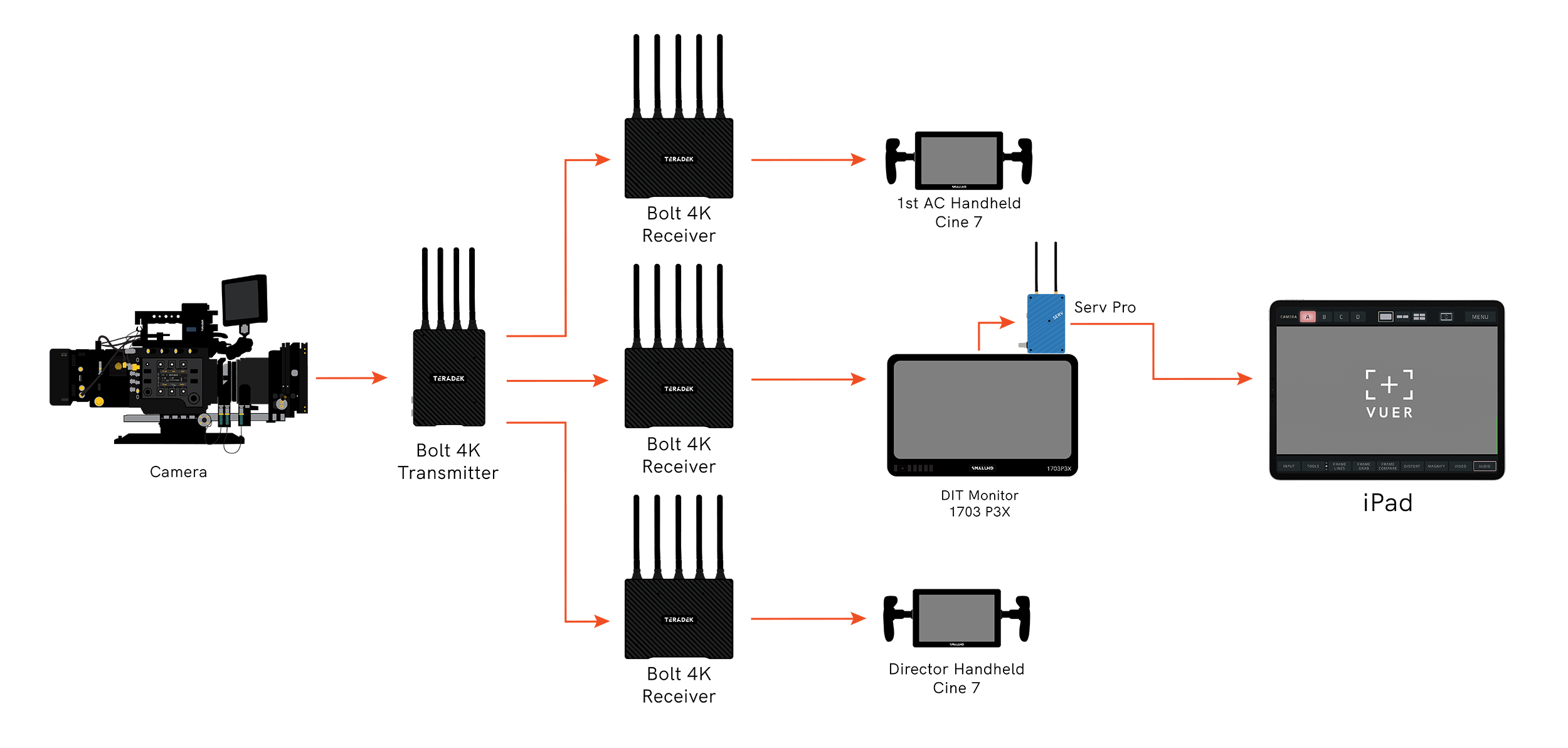 SERV PRO
There are still crew members at the video village and you need to maintain 6 feet /2 meters of distance between crew members. You can add a Serv Pro at the video village and like on set, stream the camera signal to the crew's iPad's who are near the set at the video village. Serv Pro allows you to stream to up to 10 crew members on their own iOS devices, which they can keep with them at all times, reducing the risk of infection.
MULTI-CAM
A major benefit of using Serv Pro is the ability to manage a multi-cam workflow with the help of VUER, Serv Pro's companion app. VUER allows for viewing of up to 4 video feeds on its monitoring interface, along with a suite of professional monitoring tools found in traditional monitors like waveform, vectorscope, frame grabbing. VUER also offers the portability required for near set workflows, so users can move about freely and view the shot from anywhere near set, unlike traditional monitoring systems.
WIRELESS CONNECTIVITY
Serv Pro does not require a line of site between transmission and receiving. Instead, Serv Pro streams over 2.4 / 5Ghz WiFi or ethernet to iOS devices connected to the same network. However, there are best practices for WiFi and we always recommend using a wireless router to improve connectivity. You can do this with Link. Link is a ruggedized dual-band Wi-Fi router designed specifically for broadcast and cinema productions taking place in a fixed location. Link is recommended for optimal wireless performance, range, and reliability. Once a compatible encoder and your device connect to Link's Wi-Fi network, VUER will automatically detect the incoming video feeds, allowing you to view up to four separate video feeds at one time.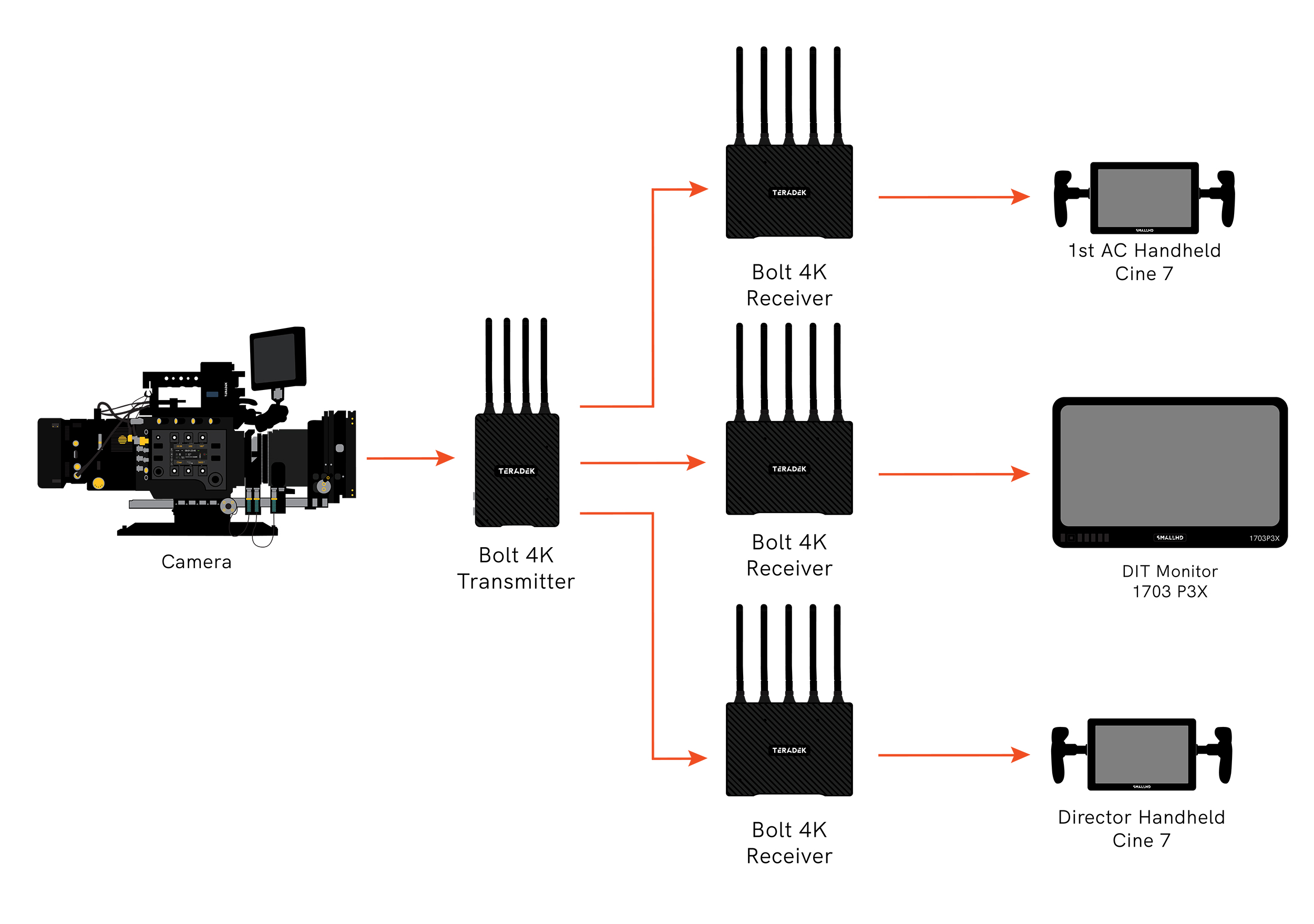 BOLT 4K
We are all used to on set production and have used the Teradek Bolt to provide encrypted zero-delay wireless transmission from a camera to the video village, and to on set monitors, like the SmallHD Cine 7 and 1703 P3X. Bolt 4K Max transmitters can transmit to an unlimited number of receivers up to 5000 feet away from the transmitter.
Comparison Chart
Bolt 4K Model
Price (per set)
Range
Number of receivers

3000 ft line of sight
5000 ft w/Panel Antenna

Standard Mode - Up to 6 receivers
Broadcast Mode - Unlimited receivers
ZERO-DELAY
Zero-delay monitoring solutions are a key factor in any cinema production, especially for DITs, directors, DoPs, and crew members. Bolt 4K's zero-delay capabilities allow camera operators and ACs to monitor any adjustments they make in real-time.
BROADCAST MODE
All Bolt 4K transmitters are capable of sending a signal to up to six receivers while in Standard Mode. Bolt 4K MAX, on the other hand, can transmit to an unlimited number of receivers while in Broadcast Mode, a feature available exclusively on Bolt 4K MAX. When Broadcast Mode is enabled, the data uplink channel is disabled, allowing the transmitter to connect to an unlimited number of receivers, so long as they have already been paired. Keep in mind that additional receivers can be of different model types (750, 1500, MAX) and are compatible with one another, but only when Broadcast Mode is disabled.
MAXIMUM RANGE
To achieve even better range performance while in Broadcast Mode, attach the receiver to a 4K Array Panel Antenna. The 4K Array Panel Antenna is a directional antenna with a receive pattern that varies based on its distance from the transmitter. The panel antenna enables Bolt 4K MAX to reach its full 5,000 ft. range, and while it doesn't add range to your 750 or 1500 systems, it focuses the receiver's antenna elements and increases gain in front of the panel. This configuration gives you even greater control over where you place your video village and on set crew, providing another layer of on set safety.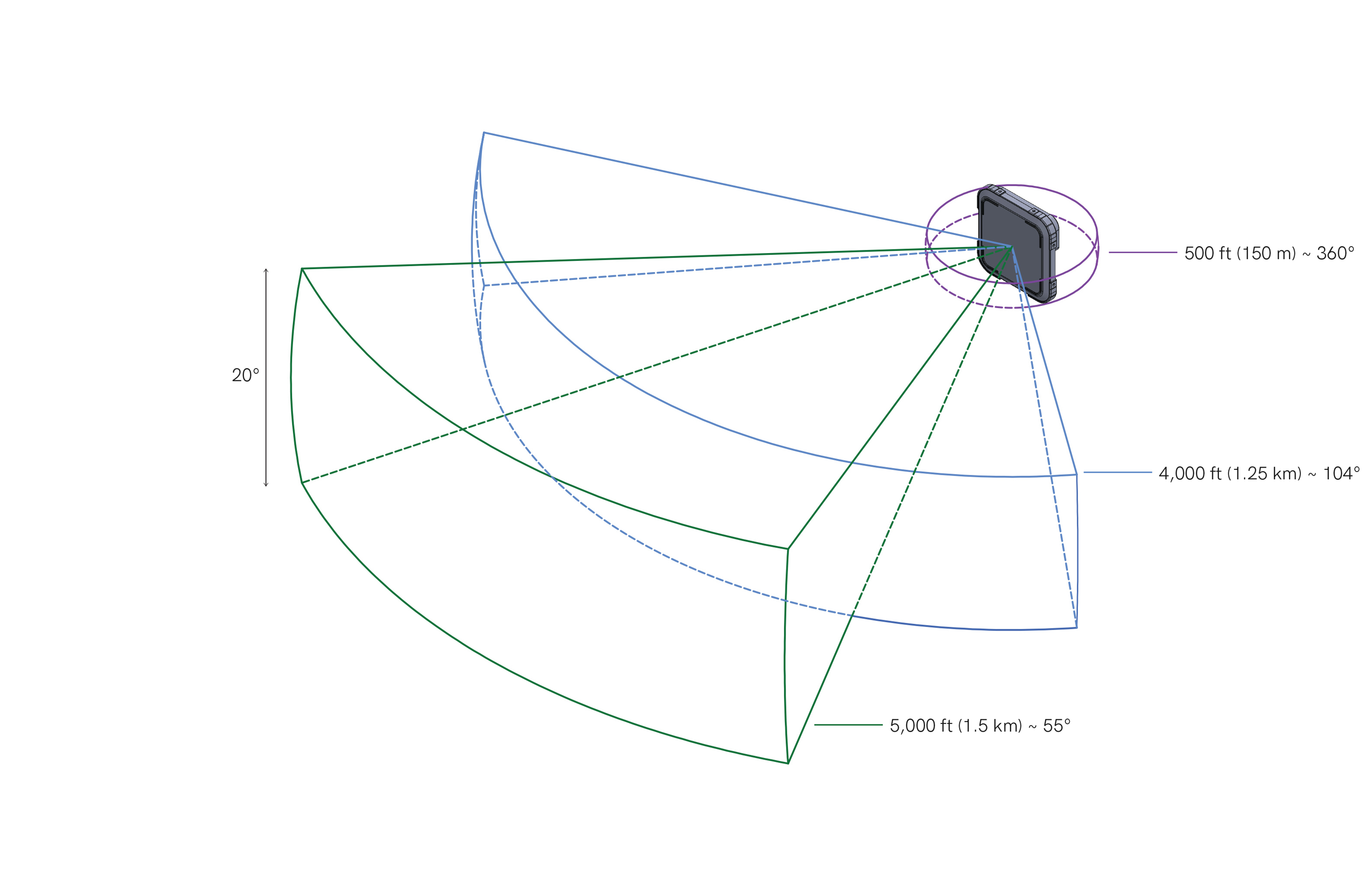 BOLT APP
The Bolt app allows users to remotely manage and monitor every parameter of your Bolt 4K including pairing, channel and frequency selection, and adjusting video output settings can all be done without having to touch the devices. Below are some of the more popular features include:
Wireless Pairing - Use the Bolt app to pair your transmitter with up to six receivers via Bluetooth
Analyze Signal to Noise Ratio - Observe the quality, range, and strength of your wireless signal with real-time diagnostics.
Spectrum Analyzer - Check for channel interference and select the best channel to transmit on and avoid dropouts.
Manual Channel Selection - Select which channels to use. Bolt 4K operates over 13 certified 40MHz channels, giving you more options to avoid interference.
Adjust Video Output Settings - If you have a mix of monitors on set, you can assign output settings per receiver for all resolutions up to 4kp60.
TERADEK RT WIRELESS LENS CONTROL
While most cinema cameras are designed to be managed and operated by multiple crew members, tasks such as lens swaps and camera control adjustments will prove to be challenging, especially if you're trying to limit contact. The goal is to set up the camera once and not have to touch it again. This is where Teradek RT comes in to play as it not only controls the lens, but also the camera's settings. Many productions utilize RT devices for their wireless follow focus capabilities, remote configuration, and universal compatibility. RT wireless controllers have a range of up to 500ft (150m) indoors and up to 5000 ft outdoors, allowing the crew to control the camera from a safe distance. In addition, RT controllers support start/stop recording capabilities on most cameras
REAL-TIME SMALLHD OVERLAYS
Teradek RT is the only lens control system that integrates with a monitor to provide real-time lens mapping overlays. This is great to pair with zero-delay wireless monitoring so the first AC is able to have their own dedicated setup, rather than relying on other monitors around the set.
APP CONTROL
The Teradek RT App allows users to configure all of the major functions via Bluetooth such as motor axis selection, creating and sharing lens maps, start/stop functionality, and includes virtual sliders for calibrating and managing FIZ controls.
SUMMARY
The key to on set, near set and off-set workflows is the use of multiple Teradek products in an integrated fashion. The Bolt and Serv Pro send signals to crew members utilizing wireless monitors and personal iPads on set. The same signal also goes to the Bond Backpack, Serv Pro, and Cube, enabling the near set and off-set users. The Bond is particularly good when you are on a set or location without traditional wired-based internet, while the Cube is most likely a better choice when you have a solid internet connection and can manage local firewalls.

Regardless of Teradek product, all signals are encrypted and viewable only by those with the proper equipment and passwords ensuring your content stays secure.
These workflows deliver real productivity, collaboration, and safety. While Teradek offers many different models of the Bolt, Serv, Bond Backpack, Cube, and Core, entry-level pricing across all of these products is less than $12,500. A top of the line integrated solution will start around $20,000. Core streaming is a usage-based solution that depends on the content quality, duration, and number of guests (locations) you want to give access to.
Many of your rental companies have these components available for rental and Teradek product specialists can help you with Core or other components you need to source.
We all want to get back to work, but it needs to be sustained work over many months. No one can afford to see production shut down again. The precautions and workflows we establish today will produce the safe environment we need. Teradek products can be part of your safe workflow. It's time to get back to work.